Tally on Cloud
Run Tally ERP 9.0 / Tally Prime from Cloud Anywhere, Anytime, Any OS, Any device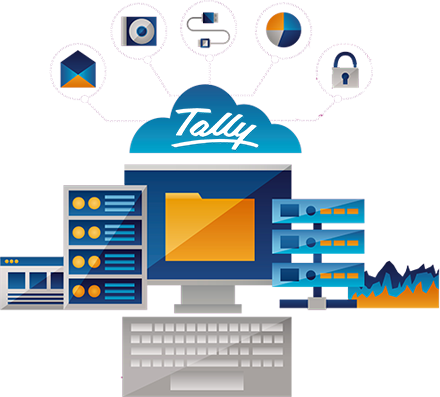 No need of Local Servers, Zero Maintenance cost, No license cost
Introducing Tally on Cloud – an  innovative solution from the pioneers of the remote computing, data center & thin clients. Liberate yourself from the hassles of buying, managing and upgrading servers and desktops. Use Tally on Cloud to run Tally & other office applications; anytime, anywhere using any device.
Your Tally and data is securely hosted on our servers. Tally can be accessed from any device that supports HTML5, Java, or RDP protocol. What's more, You can use your local printer to print the invoices / ledgers, etc. You can use your local disk to export or synchronize your Tally data. From single user to multiple users, the data is accessible securely within your company / group.
We understand that keeping your financial / accounting data on the remote server is a very sensitive decision. That is the reason, we have kept data security as our topmost priority. In fact, keeping the data on remote & managed servers is more secure than keeping the server in your premises. Every Tally / user instance works in it's own work-area which makes it very secure.
Are you already a TALLY user?
"Take Cloud with you from Paam Steps at Super Affordable Price"
Ready To Scale Your Business?

Access From Anywhere
Hosted on Tier III & IV Data Centers, running on Genuine Windows Server 2012 platform, and available through multiple protocols – RDP, JAVA, HTML5. Access your Busy from Any OS & Any device.

Access From Any Device
You may use Thin Clients, Desktops, Windows, Mac, Linux, Android, iOS anything, It simply works perfect. An Ideal solution for Multi Office / Multi Branch business setup.

Highly Secured
Firewalled networks, Encrypted Data Flow, Dedicated IP Addresses for every instance / customer. A highly secured infrastructure for you to be relaxed about your Busy & Data.

Access Anytime
Hosted on World Class SpectraCloud infrastructure with 99.9% uptime. Your TallyERP is up & running 24/7; securely available wherever you are. You may also shut down or power on your server any time from our management portal. You are in full control.

Highly Scalable
Upgradation of Users / Resources is as easy as you can think. You may require more users as your company grows. Just give us a call and we will upgrade your plan as per your requirement. Scalability is just a call away.

Remote Printing
Thanks to AppAnywhere Universal Printing. You can create Invoices, Ledgers, etc. in Busy running on Cloud; and print it on your local printer, connected to your PC in your office. No printer drivers required, supports all the printers.

Office Applications
You may require applications like Kingsoft Office, Open Office. These applications can be made available at no extra cost. For Microsoft Office, extra charges may apply.

Remote Control
Shutdown, Start, Restart your Server / Instance, anytime using our SpectraCloud Control panel (On browser).

Flexible Plans
Flexible plans according to your requirements – based on your number of users. You can pay monthly, quarterly or even yearly. No signup fee.

Lightweight
The Protocols and Technology used in AppAnywhere that is powering TallyERP on Cloud is fine-tuned and optimized for remote performance even on low bandwidth. You can connect using any CDMA 1X or higher network, 3G / 4G, or any Broadband. It simply works perfect!!

Local & Remote Disks
Import, Export or Backup your Busy data to your local disk at your office. As a security feature you can control access to local disks available to your users. Just drag and drop the files from/to your local computer & server. It's very easy to operate as you are already familiar with the Windows environment.

Backup of data
Backup Space is provided on the NAS at the data center wherein you can take regular manual or automated backups of your TallyERP or Files. Our team will help you in setting it up.